Olga de Amaral: The Elements
New York, 2 November – 18 December 2021
"I want to achieve a sense of floating, as though memory were suspended in a mystical space"
Best known as a textile artist, this exhibition positions Olga de Amaral as a vital force in sculpture, installation art and indeed in painting, albeit using her foundational materials of fiber, thread, wool, gesso and metallic leaf. Amaral's inaugural show at Lisson Gallery New York coincides with her first major retrospective in North America, 'To Weave a Rock,' which is now on view at the Cranbrook Art Museum, Michigan after its debut at the Museum of Fine Arts, Houston.
Exploring the core principles of her varied career, this combination of seven different bodies of work, spanning 40 years, reveals how Amaral's oeuvre ranges all the way from an appreciation of Colombian heritage and indigenous craft, through the influence of Latin American Modernism, to latter-day developments in experiential art, optical abstraction and post-Minimalism. The earliest work in the show, Estudio en dos Elementos (Study in Two Elements) from 1976, is composed of coarsely intertwined horsehair and serpentine coils of cord, which switch from deep red and ochre to black, recalling the natural tones of earthworks she was making at the time. A decade later comes the 1988 Tierra y Oro (Earth and Gold), a free-floating cascade of vertical lines that relates in conception to her imposingly physical structures titled Woven Walls – as well as the comparably large-scale Memorias (Memories), 2014 – but with the addition of light as an extra material or element – the looser weave allowing a moiré pattern to develop in its interstices.
Read more
Amaral discusses her first major museum retrospective in the United States, consisting of some 60 works that elucidate her seminal influence and technical innovations.
'Olga de Amaral: To Weave A Rock' is organized by Cranbrook Art Museum and The Museum of Fine Arts, Houston. The exhibition is curated by Laura Mott, Senior Curator of Contemporary Art and Design, and Anna Walker, Assistant Curator, Decorative Arts, Craft, and Design, The Museum of Fine Arts, Houston. The project is generously supported by The National Endowment for the Arts, a Craft Research Fund Grant from the Center for Craft, and The Graham Foundation for Advanced Studies in Fine Arts.
Installation views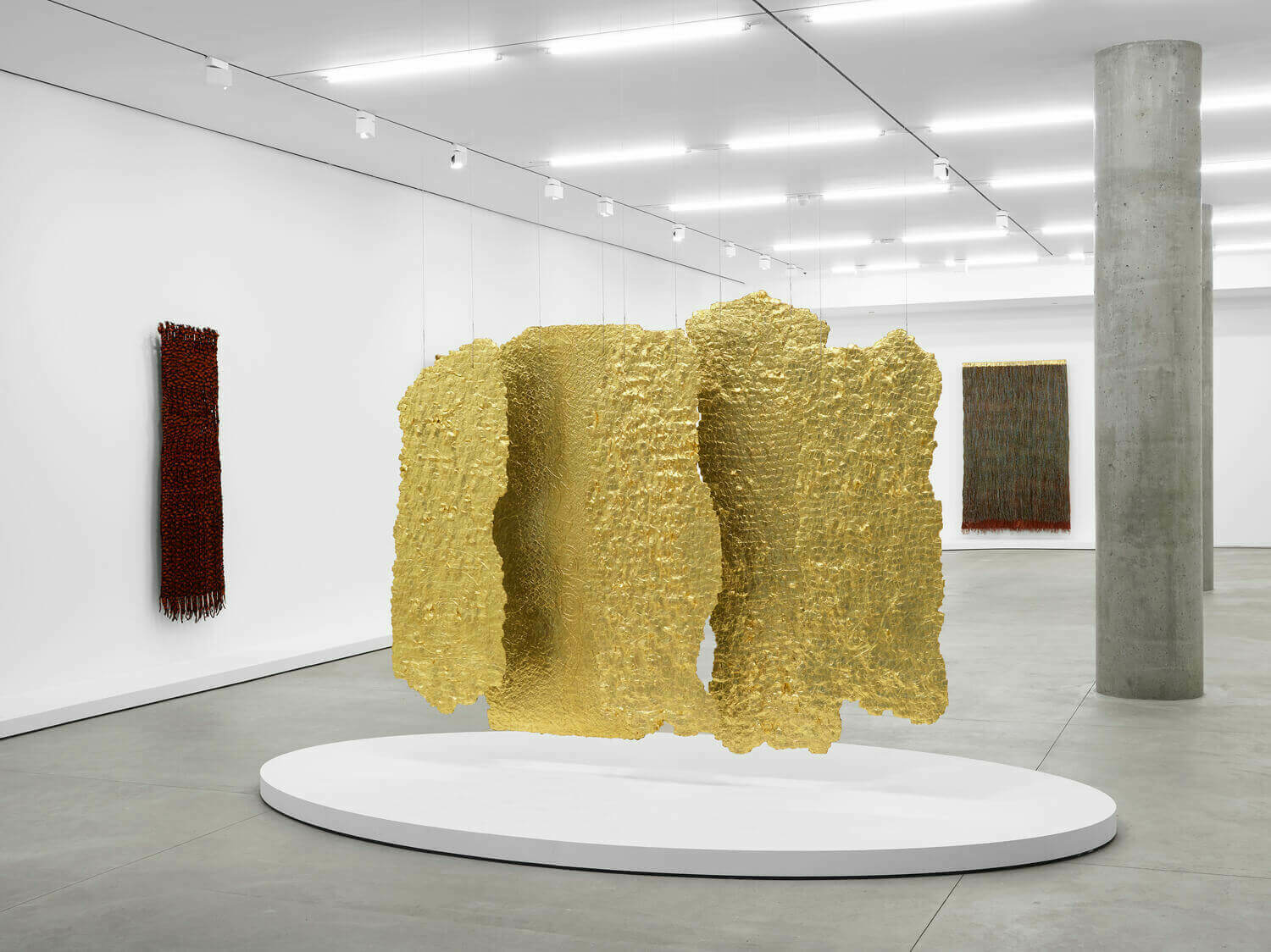 More information
Location
508 West 24th Street
New York
Opening Times:
Tuesday – Saturday: 10:00am – 6:00pm
View map
Related news