Lisson Gallery at TEFAF New York 2022
2 May 2022
Lisson Gallery is pleased to return to TEFAF New York with a focused presentation that includes works by Olga de Amaral, Carl Andre, Anish Kapoor, Sol LeWitt and Hélio Oiticica.
A highlight of the booth is a recent stone alabaster by Anish Kapoor. Kapoor's stone sculptures are structured around a complex relationship between form and anti-form, between presence and absence. With an effect similar to his iconic mirrors, this carved alabaster seems to defy gravity and volumetric space. As the viewer's head moves closer to the indeterminate space, the eyes try to see deeper inside and viewing becomes a kinaesthetic experience – initiated by the artwork but consummated by the viewer. Kapoor is interested in the ways that abstract art – the sheer materiality, form and colour of what is there – allows for experience, both for the artist and the viewer. Alongside the presentation at TEFAF, Kapoor has recently opened a monumental dual exhibition at the Gallerie dell'Accademia di Venezia and the historic Palazzo Manfrin in Venice, Italy. The major presentation, curated by Rijksmuseum Director Taco Dibbits, powerfully reveals the full, visionary range of Kapoor's practice, his painterly sensibilities and sculptural prowess.
Another highlight of the booth is a selection of historical paintings on cardboard from Hélio Oiticica's Metasquema series. In his time as a key member of the Rio de Janeiro-based Grupo Frente in the mid-1950s, Oiticica's radical play with geometric form and vibrant colors transcended the minimal lines of the European constructivism he was influenced by, and imbued his work with an exuberant rhythm that resonated with the avant-garde music and poetry of Brazil. Between 1956–58, the artist would created a number of important Metaesquema paintings that expressed his increased consideration of physical space, and the possible translation of shapes in the two-dimensional plane into three-dimensional experiences. A survey of Oiticica's work curated by Ann Gallagher is currently on view at Lisson Gallery in London. Featuring painted compositions, three-dimensional works, film and an environmental structure, the exhibition is on view through June 25.
Two woven sculptures by Olga de Amaral, Lienzo A and Lienzo B (both 2014), exemplify Amaral's delicate weaving method, which in these works connects numerous, painted linen cords that manifest a deeply layered image-object of sizeable proportions. The works highlight how Amaral's oeuvre ranges widely from an appreciation of Colombian heritage and indigenous craft, through the influence of Latin American Modernism, to latter-day developments in experiential art, optical abstraction and post-Minimalism.
Presented alongside these are works by Carl Andre and Sol LeWitt, two artists who were given early shows by Lisson Gallery. Similar to the Kapoor sculpture in the booth, Andre's 51 Copper-Carbon Vein (2006) is a site to redefine the role of the viewer and their experience to the artwork.
Alex Logsdail, CEO of Lisson Gallery, will participate in a panel discussion focusing on the remarkable legacy of painter Carmen Herrera as part of TEFAF Talks. Programming with take place on Monday, May 9 at 3:00pm EST in the Veterans Room, Park Avenue Armory. More information about the panel can be found at tefaf.com.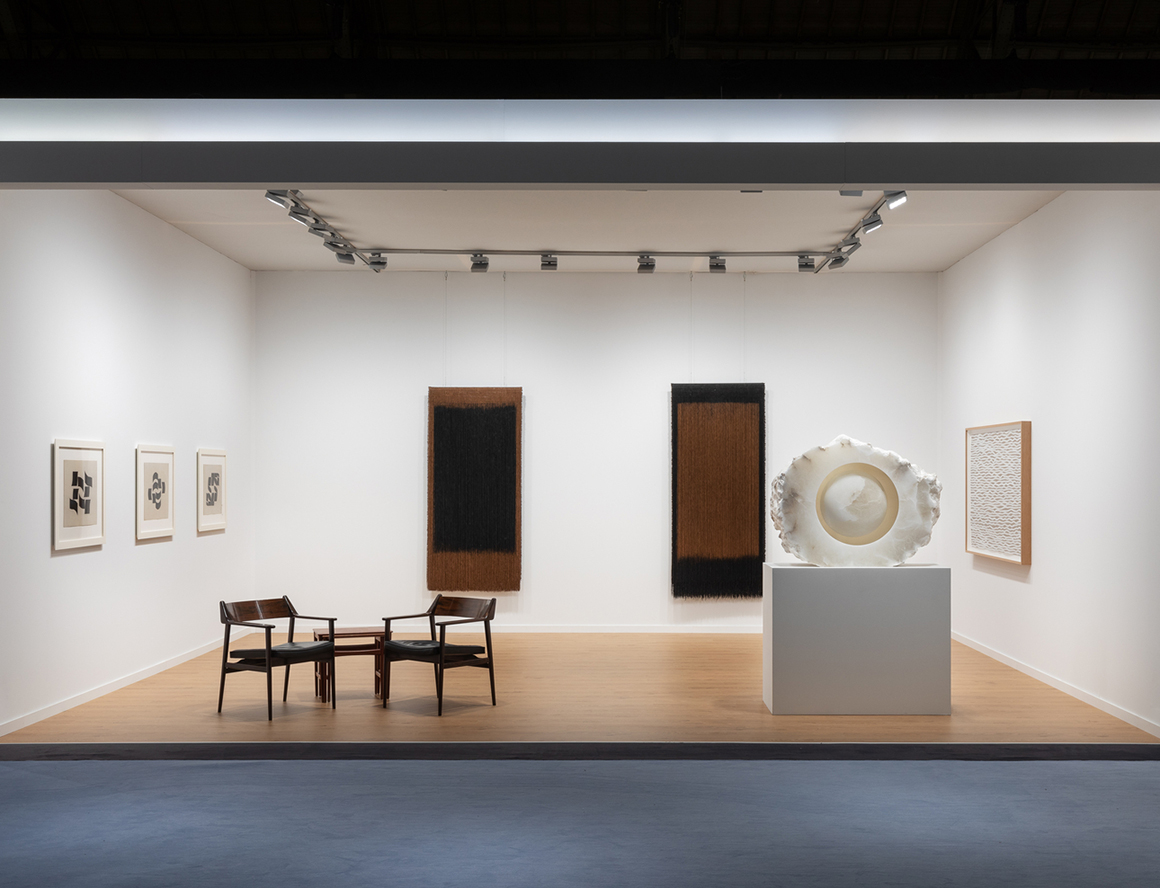 Click here for more Art Fairs