Episode 6: ON AIR visits the studio of Channa Horwitz
20 March 2019
This episode of Lisson… ON AIR focuses on the life and work of Channa Horwitz.
Horwitz was born in 1932 and died in 2013, and lived and worked in Los Angeles. She studied graphic design in the early 1950s at Art Center College of Design and Fine Art at California State University, Northridge, in the early 1960s. In 1972 Horwitz received a BFA from the California Institute of the Arts, studying alongside John Baldessari and Allan Kaprow, participating in some of Kaprow's 'Happenings', as well as creating her own performances.
In 1968, Horwitz submitted a proposal called Suspension of Vertical Beams Moving in Space to LACMA's 'Art and Technology' exhibition. The proposal was for a sculpture with eight moving beams, suspended in the air by magnetism and lit at varying intensities. The sculpture was never realised – the project, in the end, included work by only 67 male artists. Yet the attempt to graphically describe the movement of the beams with the rules and systems of eight that Horwitz developed for the proposal became the foundation for numerous bodies of work, including the Sonakinatography series, comprised of drawings, performances and musical compositions. In a 1976 article published in Flash Art, Horwitz described the system by saying "I have created a visual philosophy by working with deductive logic, I had a need to control and compose time as I had controlled and composed two-dimensional drawings and paintings. To do this, I chose a graph as the basis for the visual description of time...Using this graph, I made compositions that depicted rhythm visually."
Sonakinatography is discussed in detail in this episode that takes the form of a conversation between Channa Horwitz's daughter Ellen Davis and Lisson Gallery's Ossian Ward in advance of an exhibition of her work in London, titled 'Rules of the Game'.
Former Ford Foundation Scholarship student at the School of American Ballet in New York City, and a dancer with the Stuttgart Ballet Company, Ellen Davis has been teaching classical ballet internationally for over 40 years. She has also been the artistic director of numerous ballet and performing arts academies. In 1977 Davis founded 'Yoga of Ballet', a classical ballet practice taught with a mindful, living yoga approach that can be extended to all aspects of life. She also offers spiritual guidance coaching and writes about the creative process, living the timeless in time, as well as new paradigm teaching and learning approaches.

Davis is also the archivist and manager of the Channa Horwitz estate. As a long time collaborator with Horwitz she continues to choreograph, direct and oversee performances in conjunction with her mother's work. Ellen created the text and soundtrack for Horwitz's seminal work At the Tone: "At the tone the time will be.... one moment past the point of seeing anything other than now".
Listen to this and all other episodes of ON AIR on Soundcloud, Spotify, or Apple Podcasts.
Channa Horwitz's studio in Los Angeles
An example of a Moiré work with gold leaf, in the studio
A portrait of Horwitz on a side table underneath one of her works
The living spaces, featuring works by Horwitz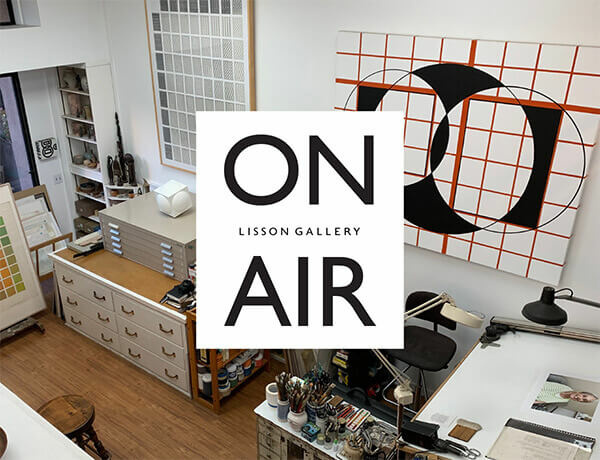 Click here for more Podcasts