Susan Hiller: Rough Seas
New York, 14 March – 15 April 2023
Lisson Gallery is pleased to present a survey of Susan Hiller's Rough Seas works. The exhibition tracks Hiller's investigation into a particular cultural artifact, the 'rough sea' tourist postcard, which she began in the early 1970s and continued until her death in 2019. Rough Seas represents the influential artist's third exhibition with the gallery and first in New York since 2017. 
Having moved to the UK in the late '60s, the US-born Susan Hiller was in the seaside town of Weston-super-Mare when she came across an old Edwardian postcard bearing the image of waves crashing against the shore and the legend 'rough sea'. Soon she began collecting similar postcards from junk stores in other coastal towns, recognizing them both as a form of collective portrait, a representation of Britain as an island nation, obsessed with the weather; and also as a domesticated, miniaturized version of the Romantic tradition of the sublime. Her first work to make use of this collection was the multi-panel installation, Dedicated to the Unknown Artists (1972-76), one of the best-known British conceptual works of the period (Tate collection). Positioning herself as curator, Hiller treated the postcards as miniature artworks, products of a previously unacknowledged artistic tradition in which anonymous workers, typically women, were employed to add hand-tinted effects and painted details to photographic images. Subsequent 'rough sea' postcards that Hiller continued to acquire, between 1976 and 1982, were made into various Addenda to Dedicated to the Unknown Artists: small, single works that focused on specific themes.
Hiller further explored the core relationship between painting and photography, first identified in Dedicated to the Unknown Artists, in her Rough Seas works. While some of the original postcards were printed versions of photographs that had been altered by hand and then rephotographed, others were photographic reproductions of paintings. The Rough Seas play out various permutations of these possibilities, enlarging the images and arranging them into gridded groups. In early works, such as Another Sea View (1982-88) and Storm Scenes (1987), Hiller adopted the role of hand-colorizer, modifying the images in a variety of different ways; later, she experimented with digital processes to produce ostensibly painterly effects and fantastic tonal shifts, in works such as Night Waves (2009) and Rough Dawns II (2015). In each case, the resulting scenes of storm-wracked coasts and churning waters seem to thrill us, and speak to our deepest cultural fears and desires, our complicated longing for wildness and otherness.
Read more
Installation views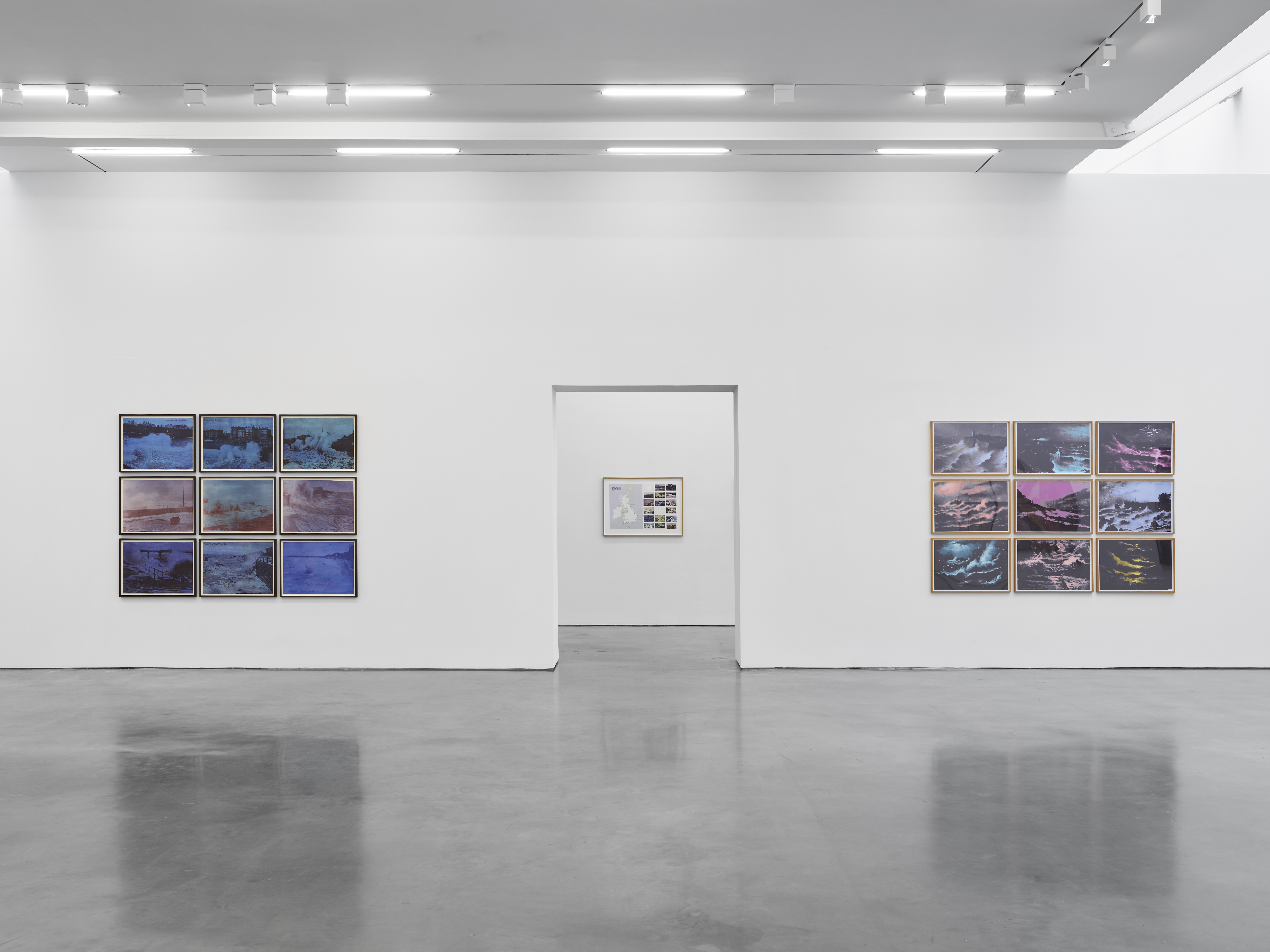 More information
Location
Opening Times:
Tuesday – Saturday: 10:00am – 6:00pm
View map
Related news