Jonathan Monk: Senza Titolo
23 May – 19 July 2013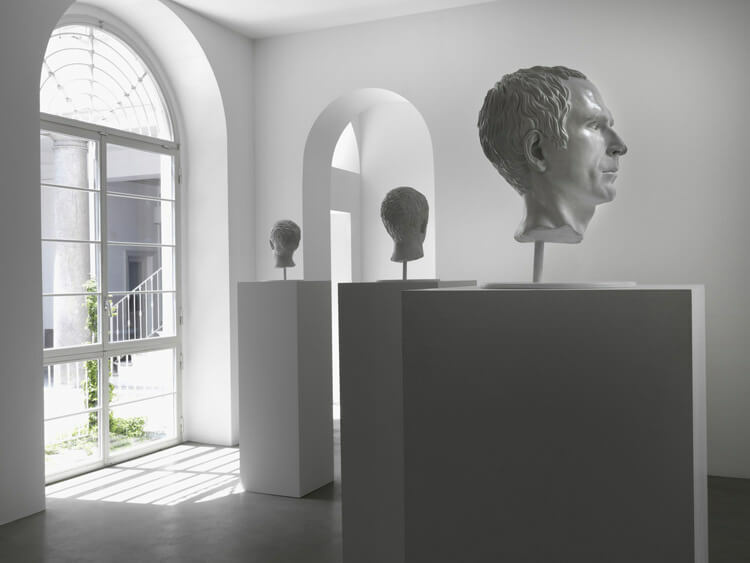 Monk often makes work about other work: an art of appropriation, adaptation, reworking and revisiting. Often referencing Conceptual, Pop and Minimalist art, Monk confronts the contemporary dilemma of how to make art in the face of art history: how to be original when seemingly all questions have been posed. However, in this act of examination, modification and re-presenting, Monk succeeds in creating something new. His originality lies in the space between the idea inherent in the new object and its actual objecthood. As Monk confirms, "...the idea of an original and a copy of an original are two very different things."
For his Lisson Gallery Milan exhibition, Monk turns his gaze to Graeco-Roman art. Inspired by the Italian setting for the show, he has had his own head painstakingly sculpted and cast in Jesmonite polished to resemble marble. Five identical, fractionally larger than life-size busts have been created and each called Senza Titolo. With stylized hair and an imperious gaze, they resemble the idealized portrait statuary of ancient Rome. Each bust is placed on a high plinth and stares down at the spectator. The figure of the artist appears exalted but this is not a simple exercise in egoism. In order for the works to be completed, Monk invited different artists from the Arte Povera generation to break his nose. Kounellis, Calzolari, Prini and Zorio all agreed to deface a bust by giving Monk's likeness a good whack with a specially selected hammer and knocking the nose off. Zorio even added a small gob of yellow modeling clay to the broken nose.
In this moment of destruction the work comes into existence: a metamorphosis that eliminates the single figure of the artist and echoes the ambiguity of the non- title of each work.
Covered Motorbike 2013 is the largest bronze sculpture that Monk has ever produced. Normal associations of speed or the open road are belied and instead Monk presents a large, heavy and inert object. The bike has vanished, hidden beneath the tarpaulin. The subject of the work remains secret. An innocuous and ubiquitous sight, especially in Milan, the covered bike has been glorified and monumentalized. Cast in bronze, references to great classical art as well as the reclining nudes of, for example, Henry Moore are inescapable.
The Void 2013 is a marble plaque that depicts the back of a Piaggio Ape three- wheeled truck - the kind of truck often seen zooming down only marginally wider and labyrinthine Milanese streets. Whilst at Lisson Gallery one day Monk over heard two technicians discussing the possibility of fitting the 'void' into the back of a van and imagined the van to be a Piaggio Ape, which is both large and small at the same time and thus has ample room for a void. Aggrandized in marble, this is Monk's homage to this simple and honest means of transportation.