Delights of an Undirected Mind
London, 7 August – 28 August 2021
Schedule your visit here.
*Please note that an appointment is required for each individual member of your party. 
Lisson Gallery brings together artists Nathalie Djurberg & Hans Berg, Susan Hiller, Laure Prouvost and Emma Talbot in Delights of an Undirected Mind, a group exhibition exploring the mysterious workings of the mind, drawing on experiences of dreaming, trance, hallucination and related mental states. The exhibition will feature recent and historic work, including painting, sculpture, photography, moving-image and textiles.

The title of the show is taken from the film, Delights of an Undirected Mind (2016), by Nathalie Djurberg & Hans Berg, the artistic duo who fuse animation, sculpture and sound to create psychologically-charged scenarios that dramatise basic natural instincts, from jealousy, revenge and greed, to submission and lust. Like Freud, who found the root of all perversions to be based in infantile sexuality, Djurberg & Berg mine repressed sexual memories, replete with fairy-tale protagonists such as Little Red Riding Hood and My Little Pony. Rather than a typical bedtime story, the clay animation Delights of an Undirected Mind is an orgiastic stream of consciousness that takes the journey towards sexual discovery as a means to explore the inner workings of fantasy, deviance and role-play. Accompanied by Berg's driving beats, the film follows a carnivalesque dream featuring a multitude of familiar yet distorted characters who engage in seemingly innocent activities that are suggestive of more craven or sinful desires. 

Alongside this, the exhibition includes painting, sculpture and photography by Susan Hiller, whose multimedia practice explored the liminality of certain phenomena including unconscious, visionary and paranormal experiences. The selected works make use of 'automatic writing', a technique Hiller first experimented with in the early 1970s and returned to throughout her career as a means to investigate the notion of multiple selves and reveal the limits of language. Among the works on display are two rare paintings from her 'Home Truths' series, Alphabet (Girls) (1985) and Native (1984), in which children's bedroom wallpaper – suggestive of spaces where children dream, but also where they become socialized and adopt cultural norms – is overlaid with Hiller's spontaneous, free-associative, graffiti-type markings. Also included are two works from the series, Homage to Gertrude Stein (2011-14), which explore Stein's early interest in automatism and its role in shaping her literary sensibility, as well as her later attempts to deny this aspect of her career.  

Laure Prouvost's large-scale tapestry, This Means Tableau (2018), will also be presented, depicting scenes from the artist's video work, DIT LEARN (2017) in which the viewer is enticed into an abstract, pre-verbal condition from which to rediscover the learning of language, words, and their associated meanings. The video, sound, installation and performance work of Prouvost offers routes to unusual states of awareness by playing with language as a tool for the imagination, complicating our understanding of what is real and meaningful. In This Means Tableau, the artist's crypto-classification system emerges in which a constellation of objects assume new purposes and functions, challenging conventional systems of linguistics and representation: flamingo = angry, cactus = toothbrush, wrench = father, cracked eggs = you are late.

For the first time, Lisson Gallery will present work by Emma Talbot. Working across drawing, painting, installation and sculpture, Talbot articulates inner and outer worlds as visual poems or associative ruminations based on her own experiences, memories and psychological projections. The exhibition features three new silk paintings, titled Day Becomes Night, Spring (2021), Day Becomes Night, Winter, (2021) and Island of Grief, Drowning Woman, (2021). Featureless figures appear suspended in surreal landscapes of natural and celestial beauty, lush with bodily and floral forms. The vibrant imagery has the hallucinatory quality of dreams, combining figurative depiction, mark-making and pattern to represent interior states that are, by any means, irreproducible.
Works on view
Installation views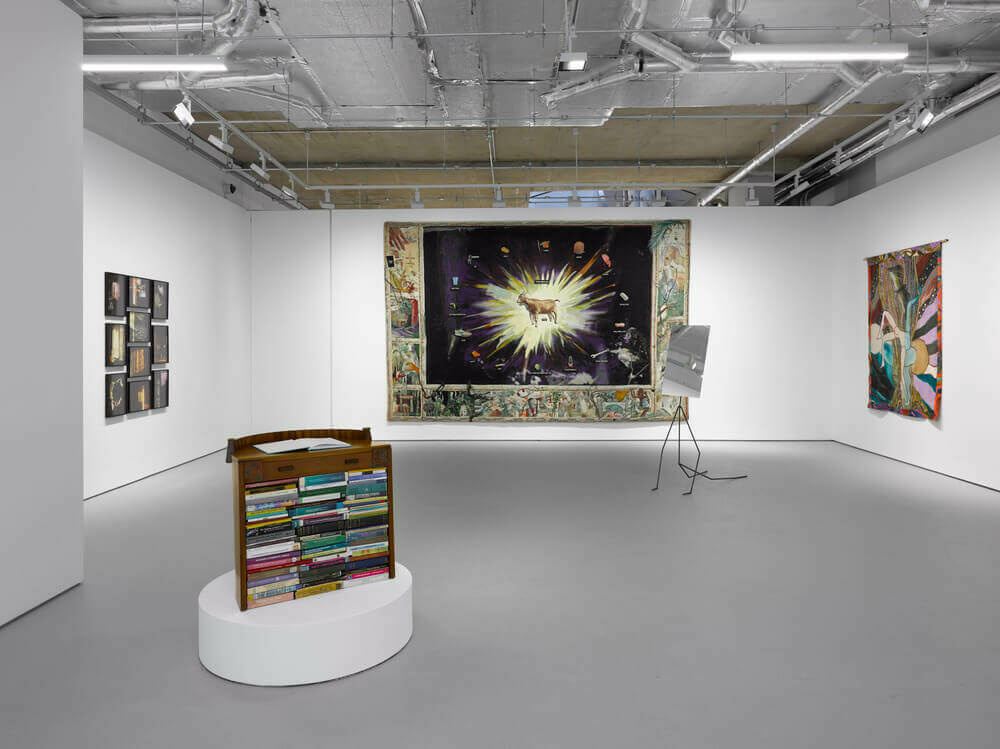 More information
Location
22 Cork Street
London
Opening Times:
Tuesday – Saturday: 11:00am – 6:00pm
View map