Anish Kapoor in Venice
The Gallerie dell'Accademia di Venezia is staging an ambitious presentation of both retrospective and new works by Anish Kapoor, the British artist famed for probing the limits and materiality of the visible world through works that transcend their objecthood and invite wondrous and sustaining interaction. A further prestigious venue, the historic Palazzo Manfrin in the Cannaregio district, complements this presentation with another major selection of large-scale and genre-defying works. Curated by art historian Taco Dibbits, Director of the Rijksmuseum in Amsterdam, this exhibition reveals the full, visionary range of Kapoor's practice, his painterly sensibilities and sculptural prowess. The exhibition runs from 20 April – 9 October 2022. Find further information via Gallerie dell'Accademia.

Watch Kapoor discuss with Frieze his long history exhibiting in the city of Venice, its 'dark maternal waters' and the inspiration behind the works on view.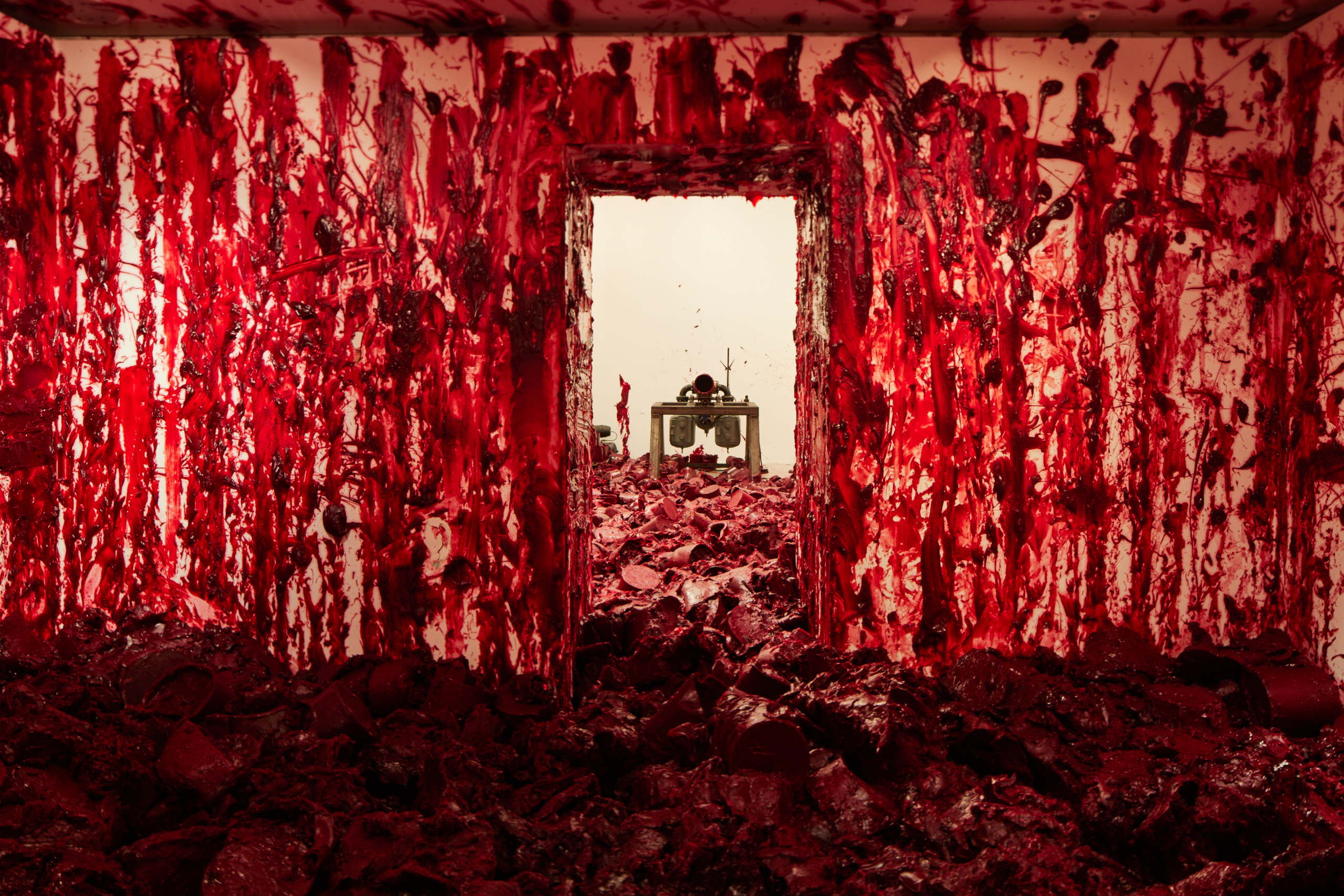 At the Gallerie dell'Accademia Anish Kapoor presents work from his seminal body of early pigment sculptures 1000 Names and Void works – through to never-seen-before sculptures created with Kapoor Black, a ground-breaking nano-technology material, a substance so dark that it absorbs more than 99.9% of visible light.
The skin of the object as veil between the inner and outer world has always been a potent presence in the artist's practice, and here at the Gallerie dell'Accademia, sculptures made with Kapoor Black push this dynamic into radical new territory, in forms that both appear and disappear before our eyes. In these works Kapoor proposes that if the motif of the fold in Renaissance painting was a sign of being, in their obliteration of the contour and edge we are offered nothing less than the possibility to go beyond being.
More unknown forces emerge through a further series of mysterious black works, some embedded in the wall of the gallery, that further explore darkness as a physical and psychic reality. Alongside these works Kapoor's most recent paintings are strongly debuted, setting up a dynamic dialogue with both the Gallerie's art historical collection, and his own sculptural language.
The motif of the skin and the fold is further explored through a spectacular, site-specific work Pregnant White Within Me (2022), a giant bulge that distends the architecture of the gallery, suggesting a re-drawing of the boundaries between body, building and being. Kapoor commits various sacrilegious acts of shooting at, or cutting into the Accademia's hallowed walls, turning the very fabric of the gallery inside out.
Palazzo Manfrin, the second venue of Anish Kapoor's dual show, begins with the monumental new work Mount Moriah at the Gate of the Ghetto (2022), protruding from the ceiling of the entrance hall, created specifically for the exhibition. This pendulous mass of silicone and paint guides visitors through to an equally challenging set of rooms featuring a triptych of similarly seething, silicone paintings, Internal Objects in Three Parts (2013–2015), as well as many influential works from Kapoor's long and prestigious career, including the iconic pigment work White Sand Red Millet Many Flowers (1982)
Further into the show, a series of mirror works flip and distort the viewer's expectations of what is before us. Heaven, hell, earth and sea are all invoked, mixed and inverted in public-scale, mechanised works such as the spinning red waters of Turning Water Into Mirror, Blood Into Sky (2003) and Destierro (2017), in which a monochrome blue digger transports tonnes of red earth in an epic display of displacement. Colour for Kapoor is a condition, immersing the viewer in the weight of its saturation, allowing colour to enact its transformational potential. Subtleties of Venetian light are at play in ethereal, geometrical works carved from natural alabaster while the deep, lagoon blue pigment of Kapoor's early void hemispheres provide moments of meditative respite.
Many more spaces connect back to themes at the Gallerie dell'Accademia, with spiritual moments and rites of passage expressed in Kapoor's unique visual language. All roads lead to the central installation of a setting (or rising) sun, which hovers over a mass of spent red wax as it aggregates on the palazzo floor, submerging the historic venue in the primal stuff of life and death.