Liu Xiaodong: Spring in New York
29 June - 12 July
Liu Xiaodong, the usually itinerant Chinese painter, has been situated in New York City under lockdown since the middle of February, unable to travel back to his home in Beijing. From a small New York apartment, the artist has made a series of watercolour paintings documenting the changing landscape of the city over the past four months.
A keen observer of modern life, Liu Xiaodong has been addressing radical shifts in society for over three decades, commenting on this emerging world through his work, in the manner of a contemporary history painter. The content of Liu Xiaodong's paintings is never transitory; his identified subject matter transpires as in-depth, complex artistic and social projects, be it documenting the life of transsexuals in Singapore (2001) or transgender and transnational artists in Berlin (2018), the forced relocation and supposed progress of Three Gorges Project in China (2003) or the complexities of multicultural life in his London series, Half Street (2013).
This new body of work serves as a record of this landmark moment in history: first recording the picturesque, poignant scenes of Spring in New York under the pandemic — with empty children's playgrounds, deserted streets, blossoms falling from the trees, and portraits of his wife and daughter — to the subsequent crowds and zeal of the Black Lives Matter protests that have swept the city, and many others in recent weeks.
The artist kept a written diary alongside the visual chronicle of his experiences; extracts from these are below.
Read the full diary here.
Read more about the series in The New Yorker.
For enquires about the artwork, email contact@lissongallery.com.
2020.4.16: Today there's a beautiful sunlight and the wind is strong. I held back for a week, but it's now time to take a walk outside, I'll head towards Chelsea. Along the way, there are just a few people, couriers, and those walking their dogs. I pass by the aerial walkway created on the former railway and there are no people; I pass by fashion shops and there are no people, just some wooden mannequins in the shop windows. Long corridors, long streets. I walk up to 14th Street, the Apple Store is empty. Even the old cow on that steakhouse signboard looks lonely up there by himself. It's sad, I don't want to walk forward.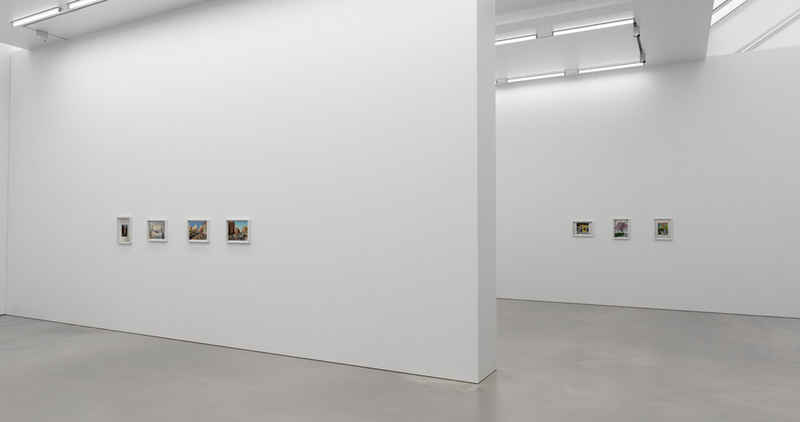 2020.4.24: From March 15 to April 23 I painted over 20 small watercolors, a full notebook, as of yesterday there are no more sheets left. This is the largest radius I can come into contact with. From Charles Street in West Village expanding north to Chelsea, south to Soho and Chinatown and west to the Hudson riverside.
2020.4.17: I've received an official notice saying that the flight on May 17 has been canceled, and there are no tickets for June. How long will it take until I'll be able to return to Beijing? No one knows. I didn't expect my homeland to be so unwelcoming of people from overseas to go back to her embrace. Lisson Gallery made available their gallery space for me to paint in, and also Nicholas's flat. This is very kind of them and I feel sentimental. I usually paint one small watercolor a day, but today I painted two. Seeing that my watercolor notebook is almost full puts my mind at ease.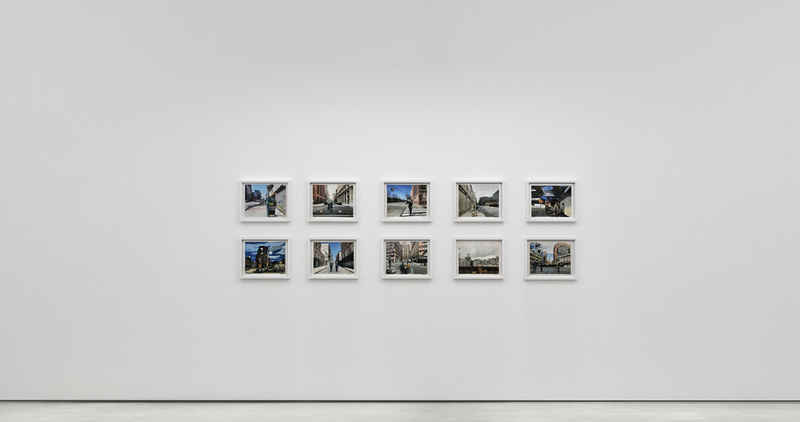 2020.6.1: The Black Lives Matter movement is getting increasingly fiery. Two days ago there was a large demonstration just outside my doorstep, on that night a video shot by a friend showed the commotion around Chinatown, people setting fire in the streets. The situation was even worse in SoHo, where the power supply was cut off and episodes of looting occurred. Last night things took a turn for the worse, police started to make arrests, and fires burned near the White House. It would appear as things are not going to settle for a while. With the pandemic not abating and new turmoil rising, the lack of available flights forces me to witness history. Where do we go from here? We'll have to wait two more months. Starting from today 11 pm New York will be under curfew.
2020.4.6: In New York, Spring has come and the flowers are in bloom. The flowering period is longer than in Beijing. The weather is often wet and a fierce wind sweeps through the streets. Then the next day, the ground is covered with white flowers, people and dogs alike idle about, and the trees are still plump with flowers.

After days of clouds and storms, today there is not a speck of cloud in the sky... I go out in the backlight, a few people around the corner are chatting and walking their dogs.... All of a sudden, a car speeds by and I'm completely soaked in water I guess the speeding car did it intentionally, hopefully, it's just some youngster playing pranks for fun. Then I connect this with the anti-Chinese episodes frequently reported in the news during this pandemic and I want to turn and shout at him, but the car has already sped off out of sight, I cannot even remember its color... Forget it lad, as long as you are happy. These days the image of Chinese people is called into question anyway. But then again don't Beijingers look down on out-of-towners? It's the same everywhere.
Old Beijingers were in their direst straits during SARS in 2003. At that time, Beijing was the center of the outbreak. Beijingers were like rats crossing the streets, even in the suburbs of the city banners saying "Beijingers not allowed to enter" were hanging at the entrance of villages, you can only imagine how Beijingers were received elsewhere. Wuhan people today are just like Beijingers 17 years ago. Foreign countries do not hang such banners, but in the depth of their hearts, people probably feel the same.
In this film, Liu Xiaodong discusses this recent body of work, while walking the streets of New York City. Produced by Meerkat Media © 2020.
2020.4.7: These past few days the bell of the nearby fire station has gone off every night at 7 pm. And when it goes off, applause rises from the balconies, and then a high-pitched song rises from among the buildings, it's quite moving. The epidemic trend in New York is stable and has a descendent tendency, the worst seems to be over. In these terrible days, I have learnt how to use Instagram, and I now have my own account: @Liuxiaodongstudio. I post something every day, the number of followers rises sharply and many are liking my watercolors. I started to paint watercolors only to while away the time, but it has now become my main occupation and I'm fully devoted to painting New York under the pandemic for my followers, I feel sorry if I don't paint one each day... I've been on Instagram for 10 days now, and I have 562 followers. The small joys in life.

Video of Liu Xiaodong's diary during the Spring in New York series, © 2020
Read the full diary here.
2020.6.12: The tree in front of my balcony is blooming, the pagoda tree flowers smell of rapeseed oil. New York's spring flowers have all turned into green leaves, except this one that has just started to bloom. During the night a helicopter buzzed overhead. There have been many over the past few days, on the account of the looting as part of the BLM demonstrations, New York has been under curfew for many days now, and almost all the shops facing the streets in the West Village, SoHo, Chelsea, 42nd Street, and others have been boarded up. There is intensive media coverage of the events that are plunging the country into chaos. It appears as if America is on the verge of a revolution.

Has the pandemic quieted down? And so did BLM too? Or should we expect things to get even worse? I have no idea, my eyes only go as far as this, I see a huge troop of protesters crossing in front of my apartment, cars stuck in the streets, a sports car driven by a black man surpassing on the wrong side of the road and freaking out the big crowd of demonstrators. I see young white people arguing with the police, I see LGBT communities gathering merrily, I see countless people of all the ethnicities working out by the river. And I paint them, I paint what my eyes can see

In 2020 we all know the world is chaotic and not really fair. We all wish this year could be over soon, that we could just wipe it out of our calendars, to go back to the past, even though the past wasn't perfect either. The reality is like watching two films at the same time: a tragedy and a comedy. In the tragedy, each and every frame of the film is relatively happy, compared to the sheer desperation of the ending, while in the comedy none of the frames is fully satisfying until the perfection is finally reached upon the end. Which film better embodies today's world

I heard the head of the Columbus statue in Boston has been cut off. At dusk, I walked up to the Hudson River to gaze at the Statue of Liberty in the distance. She is still there. I saw on someone's Instagram a GIF showing the Statue of Liberty hiding away under the pedestal... May freedom last forever.
May art and civilization last forever.