Lisson Gallery at Art Basel 2022
27 May 2022
Lisson Gallery is delighted to return to Art Basel for the fair's 2022 edition with a selection of new and historical works by its artists, including Ai Weiwei, Olga de Amaral, Ryan Gander, Rodney Graham, Carmen Herrera, Van Hanos, Anish Kapoor, Lee Ufan, Hélio Oiticica and Laure Prouvost, among others. The presentation also debuts new work by Jack Pierson, marking the first time the gallery displays his work, as well as new painting by the most recent addition to the gallery's roster, Yu Hong.
Yu Hong's debut presentation with Lisson exhibits her acrylic-on-canvas Direction (2020), painted in Beijing after her return from an extended stay in New York at the start of the pandemic. The painting – depicting a young man, unclothed from the waist up, his head firmly clasped between the two legs of a outstretched body who's head is concealed, left arm outstretched in salute – takes visual cues from events the artist witnessed in New York during the spring of 2020. In this work, Yu Hong familiarizes the subject to speak about her own context, two bodies intertwined, facing opposite directions, but clearly in need of mutual support.
Pierson, who employs photography, collage, sculptural assemblage and installation in pursuit of love, longing, kinship, celebration, and identity, presents LISTEN (2022), a new work from the artist's series of word sculptures, composed of discarded signage letters found on the streets of New York's East Village. Removed from their intended context, the resulting works exemplify a multiplicity of meaning forefronted throughout Pierson's practice.
The booth also features Anish Kapoor sculptures created using the Vantablack nano-technology, unveiled for the first time in his major dual-site exhibition in Venice this April. These two works – entitled Non-Object Black – play with the notion of the surface as a veil between inner and outer, tangible and intangible.
Further highlights of the presentation include a large-scale oil-on canvas by Laure Prouvost entitled The Hidden Paintings Grandma Improved, The Hand Shake (2021); new work from Ryan Gander's I be… series, in which stately antique mirrors are covered by a marble resin cast of a dust sheet; new paintings by the Marfa-based artist, Van Hanos, ahead of his first solo exhibition in London, opening at Lisson Gallery this November; and a painting by Rodney Graham from the series currently on view at Lisson Gallery London.
Lisson's booth also presents Carmen Herrera's wall-based sculpture Untitled Estructura (Orange) (2007/2016) in a separate, focused room of important historical works, alongside a 1958 oil on canvas Metaesquema by Hélio Oiticica, whose solo exhibition at Lisson in London continues through June. This space also displays a woven work in linen, paint and precious metals by Olga de Amaral; Lee Ufan's pigment on canvas East Winds (1985); and a pair of 1980s One Man Shoe sculptures by Ai Weiwei from his early series incorporating readymades.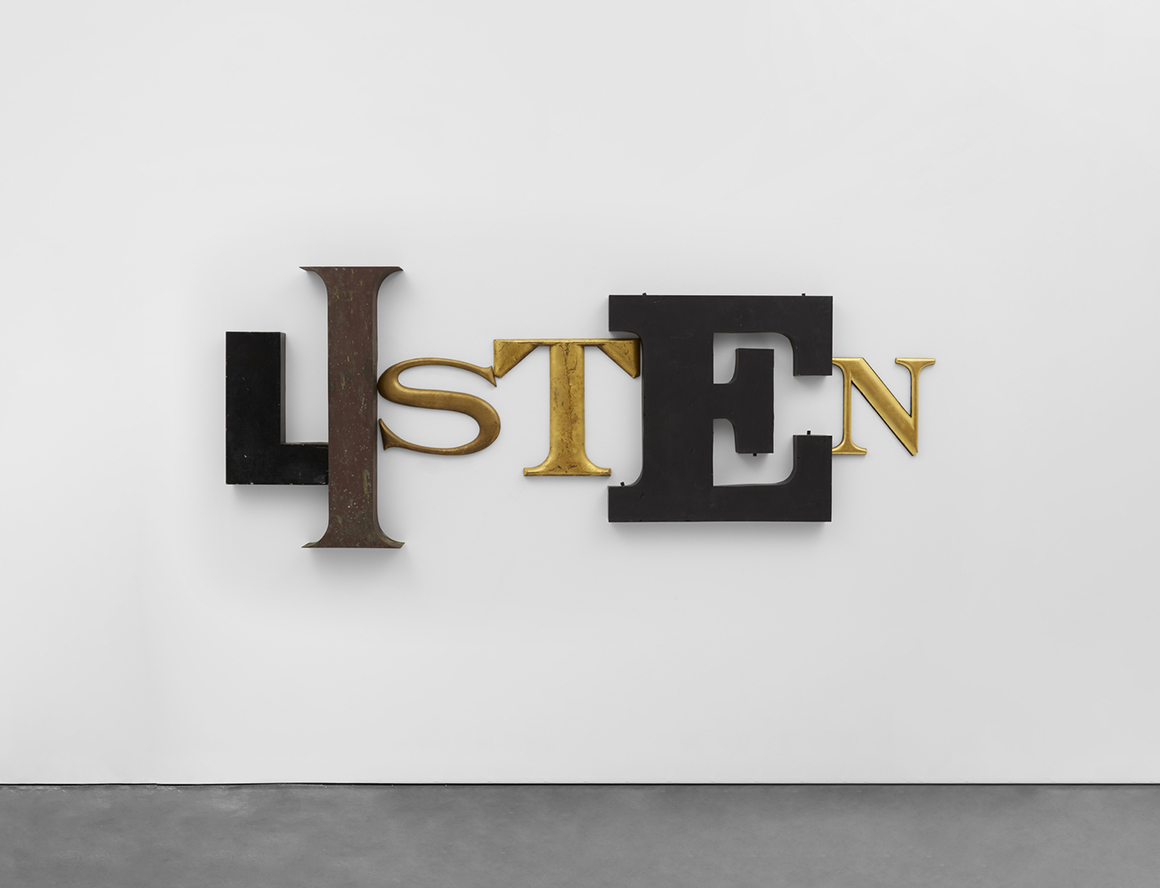 Click here for more Art Fairs