Liu Xiaodong: Half Street
27 September – 2 November 2013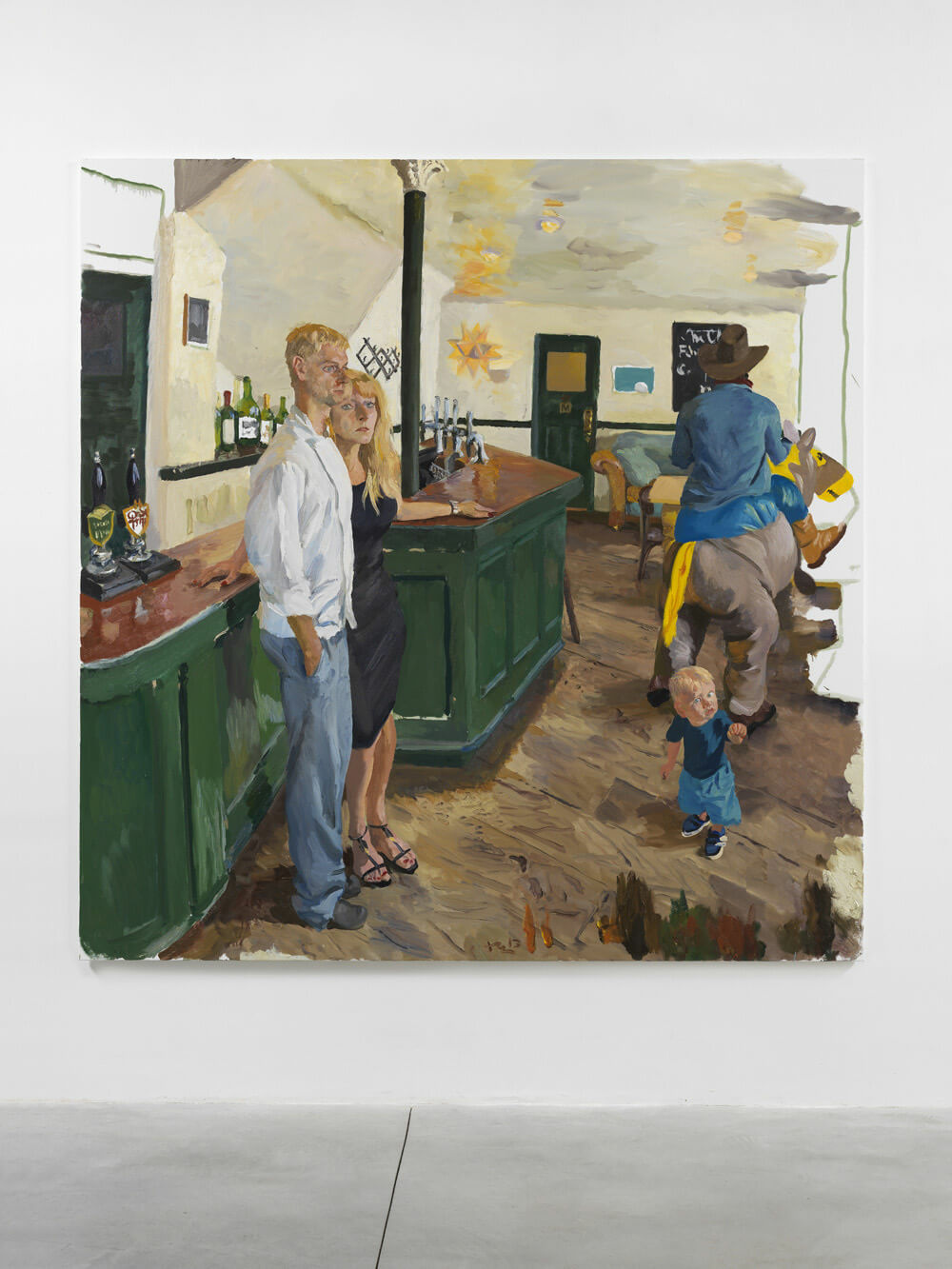 For his first exhibition in the UK, the Lisson Gallery has invited Liu Xiaodong – one of China's foremost artists and a painter of international stature – to produce a new body of work in London for his inaugural show with the gallery. Over a period of six weeks, Liu documented his encounters with Londoners, much as he has done previously, while living and painting among residents of Tibet, Japan, Italy, Cuba and Israel. Focusing on three local businesses, two pubs and one Middle Eastern coffee shop, Liu produced one near-lifesize oil on canvas and eight acrylic photo-paintings at each location. As part of his direct and conceptual approach to painting, Liu writes and draws in a journal and takes photographs before building a temporary studio in-situ, in order to paint en plein air or 'xiesheng' as it is known in Chinese.

While each venue, dubbed Green Pub, White Pub and Egyptian Restaurant for the purposes of these paintings, are all within striking distance of one another – hardly more than half a street away from the gallery as per his title – their subjects are distinct in tenor and timbre. Liu's portraits range from the two couples who run the pubs – who hail variously from American, West Indian, Polish and French backgrounds – to a gesticulating toddler, a dog and a fancy-dress cowboy. The empty upstairs room of the Egyptian restaurant adds further contrast, hinting not only at the space's alternate use as a meeting and storage room, but at cross-cultural complications encountered in the painting of such a religiously sensitive environment, as well as obliquely referencing the ongoing political uncertainty in the Middle East.

For his last major body of work, The Hotan Project (2012-13), exhibited at the Today Art Museum in Beijing earlier in 2013, Liu produced a quartet of monumental canvases and numerous over-painted photographs in and around the notorious opencast jade mines and the devastated landscapes of a remote area of China's largest, westerly province of Xinjiang, close to Tajikistan, Pakistan and Afghanistan. His Hotan pictures capture a group of workers digging for increasingly rare jade deposits and highlight the ethnic and social tensions between the predominantly Muslim locals, the Uygur, and the ruling Han Chinese to whom the precious stones are generally sold to, either as carved objects or as an alternate form of currency. In the past, the artist has chronicled the realities of modern China, in depictions of villages destroyed in the construction of the Three Gorges Dam for Three Gorges: Displaced Population (2003-06), while Out of Beichuan, Into Taihu (2010) was painted amid the rubble of the Sichuan earthquake. Liu says, 'My only goal is to confront people and see them as they really are' and the artist's immersive method of individual and collective portraiture results in pieces that have participatory and performative dimensions, while their scale often matches that of filmmaking, an activity Liu is well versed in, having previously worked as an actor in Wang Xiaoshuai's acclaimed The Days (1993), or else as producer and subject of award-winning documentaries about his own practice. Liu's London residency has been documented by celebrated filmmaker Sophie Fiennes, whose complementary portrait of the artist at work will also be on display in the gallery.

Opening Times:
Saturday: 11:00am - 5:00pm
Tuesday - Friday: 10:00am - 6:00pm