Genius Loci – Spirit of Place curated by Greg Hilty
7 June – 23 November 2014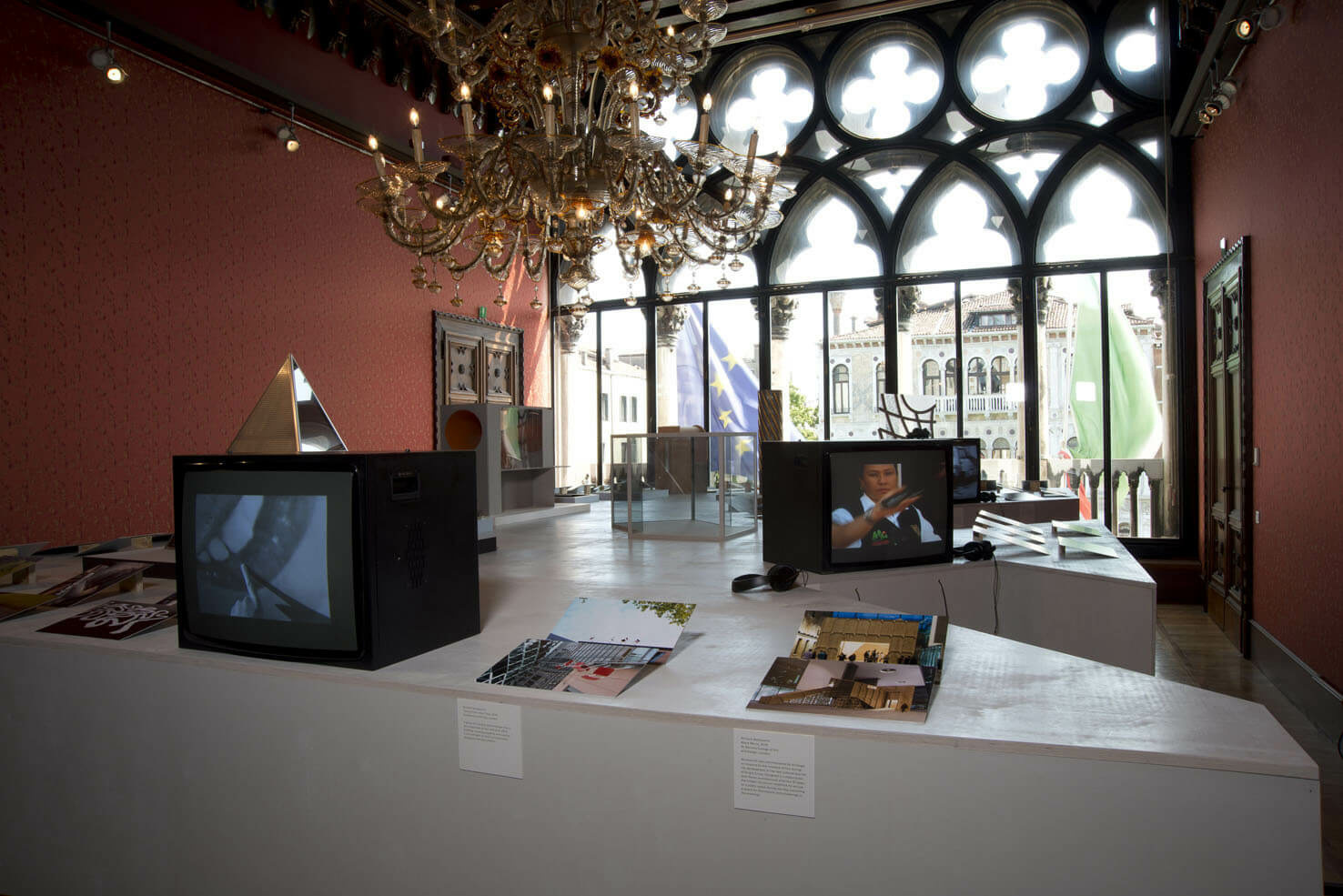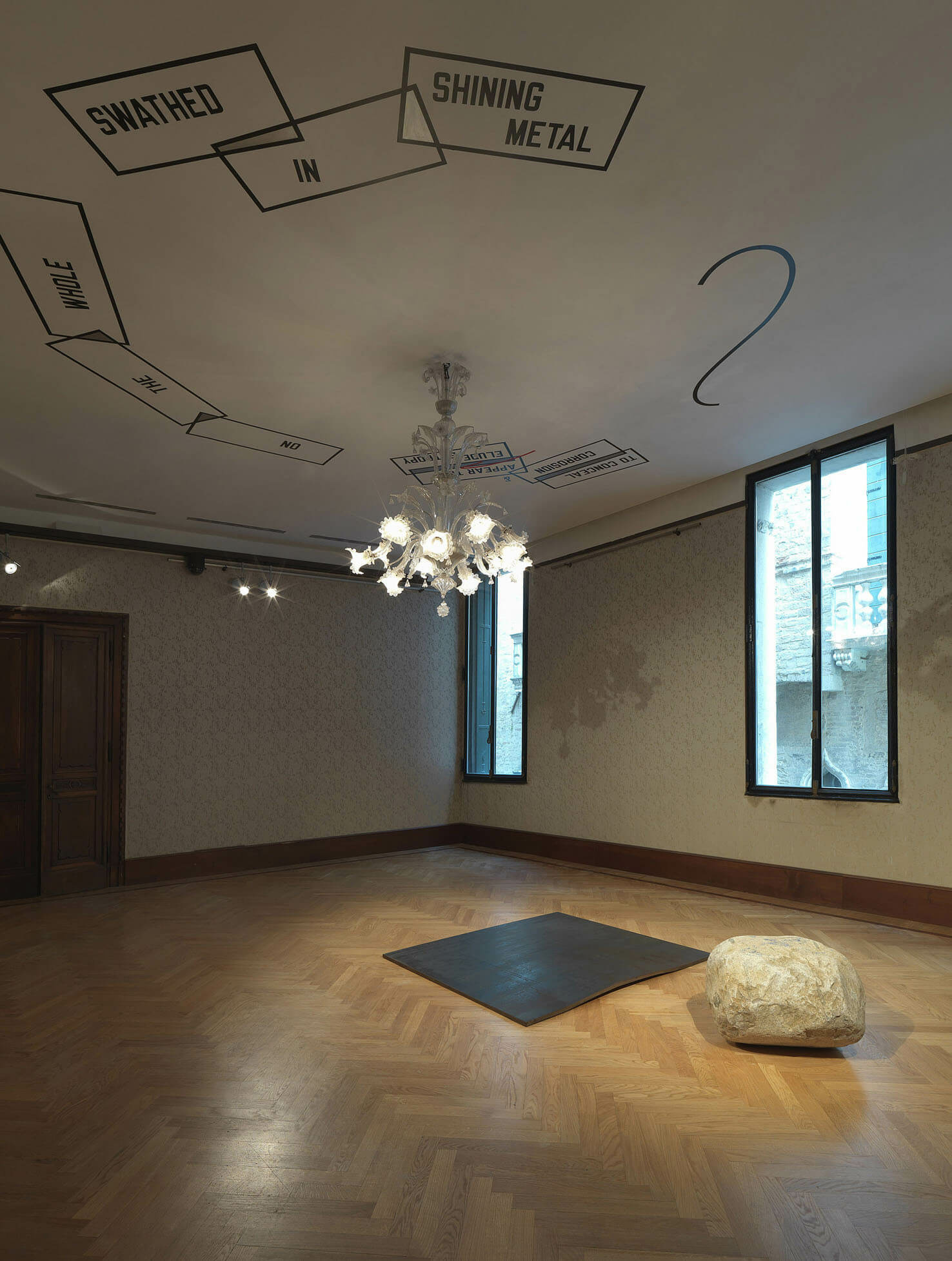 Ai Weiwei, Daniel Buren, Tony Cragg, Richard Deacon, Spencer Finch, Dan Graham, Shirazeh Houshiary, Anish Kapoor, Richard Long, Tatsuo Miyajima, Julian Opie, Pedro Reyes, Santiago Sierra, Lee Ufan, Koen Vanmechelen, Joana Vasconcelos, Lawrence Weiner, Richard Wentworth

On the occasion of the 14th International Architecture Biennale in Venice, curated this year by Rem Koolhaas, the Lisson Gallery and Berengo Studio present an exhibition of sculpture and installation that goes beyond the museum or gallery space, addressing instead the complex spheres of the public realm and the built environment. By existing beyond the walls, public art can help define the character of its location, either functioning harmoniously or in dialogue with the architecture or landscape it inhabits. As experienced commissioners of large-scale contemporary art, curators from the Lisson Gallery, in association with Berengo Studio, are displaying a range of major pieces by 19 artists, both inside and outside the historic Venetian Palazzo Franchetti. The show includes models, sculptures, drawings and projects by Anish Kapoor, Ai Weiwei, Daniel Buren, Lawrence Weiner, Shirazeh Houshiary and Lee Ufan, among others, all of whom have made significant contributions to art in the public domain through works that challenge, complement or elucidate their surroundings. In turn, these proposals, situations and sculptures – some unrealised, some temporary, some permanent – should allow us to better appreciate, contemplate and understand the world around us.
The title is taken from the Latin term
genius loci
, used to describe the particular essence or spirit of a place. For a work of art to attain this status, it might evoke the atmosphere of landscape, as in Richard Long's works made with clay collected from a riverbank. Conversely, the interconnected LED counters and circuits in Tatsuo Miyajima's installation reflect our increasingly digitised, networked existences. Public works of art can also mirror the civic and architectural structures found in cities: Dan Graham's glass and steel pavilions, reminiscent both of skyscrapers and closed-circuit surveillance rooms, engage people who may pass near or through, their bodies being at once removed and reaffirmed in the two-way mirrored glass. The colourful, canopied walkways and striped interventions of Daniel Buren, whose pergolas provide shelter and an alternate entrance to this exhibition, similarly exist somewhere between artifice and architecture, situation and experience. Visitors will also be drawn in by the monumental stack of conjoined stainless steel bicycles by Ai Weiwei that rise from the garden overlooking Venice's famous Accademia bridge.
Public art has the potential to enhance the aspect of a place as well as uplift its inhabitants, perhaps by tapping into the history or soul of its location. The towering and twisting sculptures in glass and aluminium by Shirazeh Houshiary are objects that appear to link the earth to the heavens, while Santiago Sierra's scar-like incursion of the letters S.O.S. into the Sahara desert for his 2012 work protesting against the ongoing saga of the Smara Refugee Camp in Algeria, entitled
World's Largest Graffiti
, suggests that public art can both be urgently political and at the same time even attain archeological status. The importance of glass as a material in this exhibition is underlined by works by Joana Vasconcelos, Tokujin Yoshioka and Koen Vanmechelen produced with the Berengo Studio, which has been inviting contemporary artists to engage with glass at its studio on the nearby island of Murano for over 20 years.
To demonstrate how the predominantly gallery-scaled works in the exhibition relate to those produced for the public realm, a survey of the involvement of Lisson Gallery and its artists in public art commissions will be incorporated in to a laboratory room, designed by the London-based architectural practice Carmody Groarke. This dynamic installation will present documentation – incorporating artist's models, drawings, films and photographs into a newly built exhibition structure – which covers many major outdoor projects. These range from Julian Opie's monumental commission for a riverside promenade in Calgary and Kapoor's famous Cloud Gate for the new Millennium Park in Chicago, to Richard Deacon's sensitive terracotta cornicing in London's Piccadilly and Spencer Finch's use of 700 individually coloured panes of glass for the High Line in New York.
"In the great debate and battle currently being waged over who commissions or controls what kind of public art gets made and seen in our urban centres, it should never be forgotten that the art and the artist should first and foremost have their own integrity to enable a confident and sympathetic engagement with the place and its architecture. In order to create satisfying places to live and work, we must first create meaningful symbolic structures that form relationships between us and our surroundings. When architects, artists, developers, and planners understand fully this, then the results can have the character of genius." Statement taken from an article in
Blueprint Magazine
, June, 2014, written by Ossian Ward, Head of Content, Lisson Gallery.
The exhibition is curated by Greg Hilty, Curatorial Director, Lisson Gallery. The initiative is conceived by Patrizia Spadafora, Director of Berengo Foundation.