Fred Sandback
18 September – 8 November 2013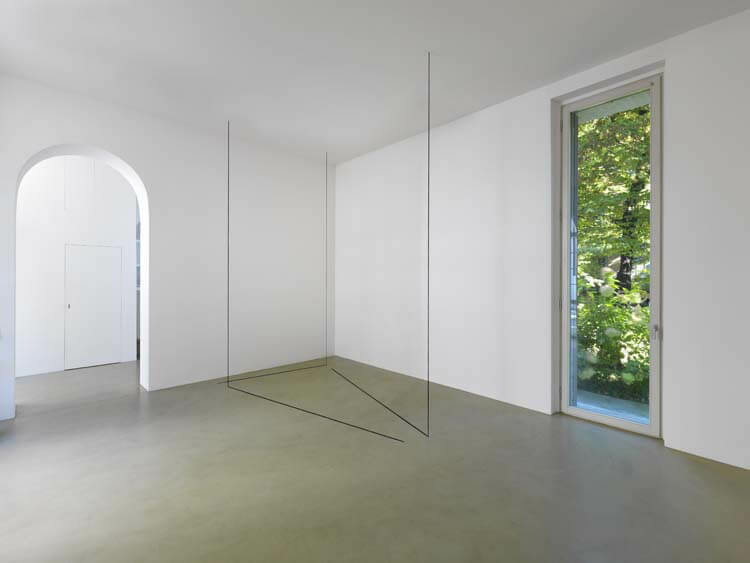 'A sculpture made with just a few lines may seem very purist or geometrical at first. My work isn't either of these things. My lines aren't distillations or refinements of anything. They are simple facts, issues of my activity that don't represent anything beyond themselves. My pieces are offered as concrete, literal situations, and not as indications of any other sort or order.' Fred Sandback, Statement, 1977
Lisson Gallery Milan presents an historic selection of works by the American artist Fred Sandback (1943-2003), his first solo exhibition in Italy for five years. Three key works will be displayed in the main galleries, typifying Sandback's elegant yet minimal methods of spatial organization. There will also be a number of drawings and scale models of as-yet unrealised pieces dating back to his exhibition with Lisson Gallery in London in 1977.
Each of the trio of large pieces, constructed either in black or red acrylic yarn, is triangular in planar or plan view, including one corner work, Untitled (Cornered Triangle, Fifth of Ten Cornered Constructions) of 1980, that utilizes three equal lengths of acrylic fibre to create an equilateral triangle leaning against the corner of a room, forming a tetrahedron. The other two works have triangular footprints, one resembling a convergence of two vertical planes narrowing towards a point and the other being constructed of three L-shaped forms that appear either to float freely or else coalesce into a visible wedge on the gallery floor.
The suite of original drawings, executed in delicate pencil and pastel, and the resulting small-scale maquettes, newly built to their specifications, refer to Sandback's solo exhibition, 'Constructions and Drawings', which took place at Lisson's original gallery location at 66-68 Bell Street, from 11 October to 19 November, 1977. These pieces proposed for the show by Sandback were never carried out and have only now been brought to light.
Opening Times:
Monday - Friday: 9:30am - 6:00pm
Closed from 1:00pm to 3:00pm