Anish Kapoor
15 May – 22 June 2019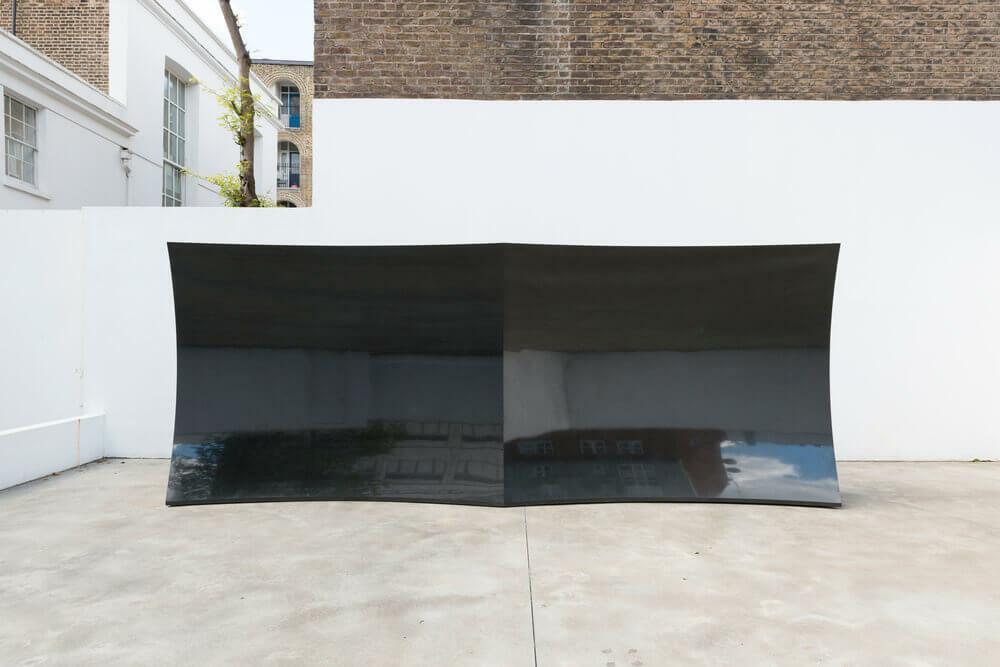 Private View: Tuesday 14 May, 6-8pm
Anish Kapoor returns for his seventeenth exhibition at Lisson Gallery with a new body of work that brings together two fundamental directions of his practice: his iconic and formal geometric languages as explored through stone, in symbiosis with the entropic drive of works enacted in silicone, oil on canvas and in welded steel.
Though rarely exhibited until recently, painting has been an integral part of Kapoor's pursuit for the last 40 years. Far from an anomaly, Kapoor's works on canvas relate closely to his sculpture, both in their oscillation between two and three dimensions, as well as their shared existence at the threshold between form and formlessness.
This formlessness is at its most visceral and abject here in a series of relief works. The thin gauze stretched across their surface, barely containing the interior that presses against it. Their surface, seeped in the blooming impressions of red and black paint, signals the turbulence and chaos of a state of immanent breach beneath. Alongside these are radical new gestural paintings; on the edge of figuration, they seem to depict swollen and fecund organs that ooze and leak from their dark interiors.
Elsewhere an ovoid steel orifice, engulfed by a web of welded metallic shards, encapsulates the brutal eroticism of the works in the show. However, this is no easy seduction. Kapoor's new works do not present us with a symbolised sensuality, rather it is in the ineffable dark voids of these generative forms that the artist creates a space we might intuit an as yet unknown known.
Outside the gallery, three monumental carvings in Iranian onyx, pink onyx and granite, present a trio of sacred or perhaps profane standing stones, again flickering between image, frame, object and relief. Kapoor confounds the cool solidity of stone with form that feels in a state of becoming. In their swelling interiors, like the gauze-covered canvases, we sense a contained that is bigger than the container.

This show presents works by Kapoor that seem more urgently than ever to probe at the most hidden phantasies of our origin and being. Through the apprehensible dimensions of experience, in the shadows of form, these works enable us to intuit and experience the complexity of that which is utterly indefinable, and allow a space where the unknowable might emerge.
This year major solo exhibitions for Kapoor include Pitzhanger Manor & Gallery, London (16 March – 18 August) and Fundación CorpArtes, Santiago, Chile (28 April – 8 September), as well as a dual show across both Lisson Gallery spaces in New York (31 October – 21 December). In November, Kapoor will also present his first large-scale solo exhibition in China at the Central Academy of Fine Arts Museum and the Imperial Ancestral Temple, by the walls of the Forbidden City in Beijing.
Opening Times:
Tuesday - Saturday: 11:00am - 6:00pm